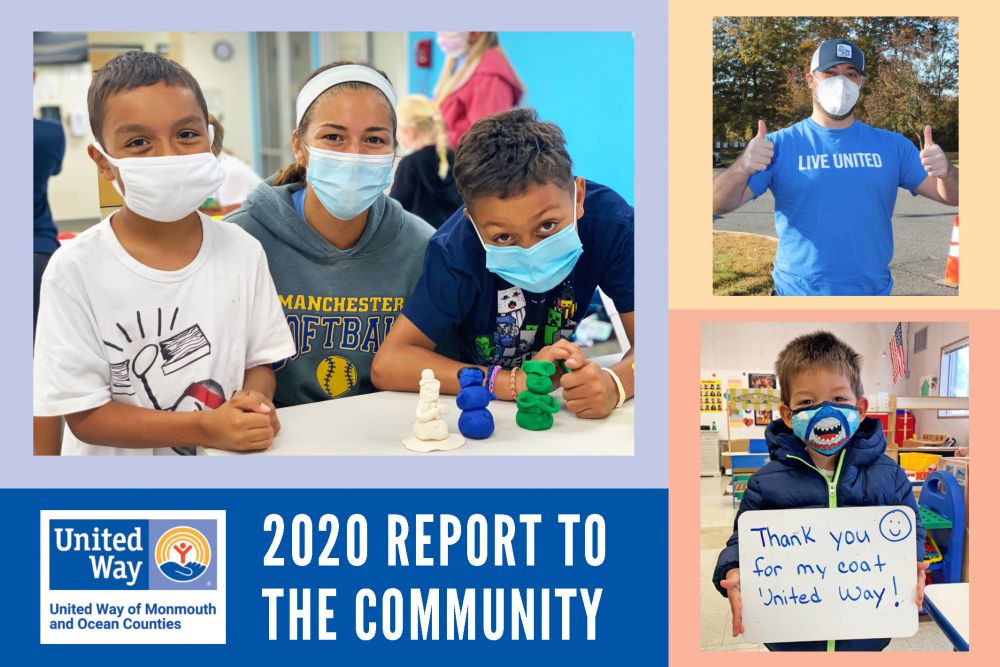 A MESSAGE FROM OUR CEO & BOARD CHAIR
Dear Friends,
In the wake of a pandemic, United Way of Monmouth and Ocean Counties (UWMOC) and our community faced many challenges in 2020 – but from hardship comes innovation. No other crisis in modern history has had as great an impact on our daily lives, which influenced the evaluation of our work based on evolving needs. UWMOC is working hard to further our new mission to bridge the gaps to education, financial stability and health for every person in our community.
Over the last year, we refreshed our brand and objectives, increased our digital transformation, assessed our partnerships and fostered new alliances in order to have the greatest impact on Monmouth and Ocean counties. Our dedication to equity and inclusion has never been more important. As a result, United Way is even stronger in its ability to convene partners, providers, volunteers and resources to address the needs of our community.
Despite the challenging environment, UWMOC made a considerable impact on the community in 2020. Our programs and initiatives are meeting the needs of today and setting the foundation for tomorrow. We created the UWMOC COVID-19 Recovery Fund to help individuals and our partner organizations affected by the pandemic. We coordinated donations of items such as paper goods, diapers and winter coats to help alleviate the basic needs of our neighbors. Our Education programs provided reading and math interventions to struggling students, and summer literacy programs were able to be held in-person. Our Financial Success Center Network was expanded to include virtual services to work with participants to meet their immediate needs as well as start planning for their future.
These are just some examples of the amazing impact we've had on our community with the help of our volunteers, community partners, Leadership Givers and all of our supporters. Thanks to you, we will continue to move towards our vision of a community where everyone achieves their greatest potential through a quality education, income stability and healthy lives.
To move forward, we must Live United.
Sincerely,
Image